A Peaceful Life Chairarm Pinkeep by Heartstring Samplery is the latest offering from the Ladies Prim Society. The kit comes with everything needed to stitch this charming piece – fabric, floss, chart, backing fabric, instructions and even a needle.
Stitch Count: 99 x 230
Recommended Fabric: 32ct Patriot's Brew by R & R Reproductions one thread over two
Recommended Floss: Weeks Dye Works
Baked Apple/VMSS Dried Rose Petals
Chestnut
Dirt Road
Garrison Green
Oscar/CC Weeping Willow
Sanguine
Whiskey/VMSS Dried Cinnamon
I will be stitching this project on a piece of 16ct Doubloon by Picture This Plus. Since I will be using 2 threads to stitch this, I will be changing some of the colors since I don't have enough of those recommended.
Started Stitching: October 11, 2018
Finished Stitching: October 17, 2018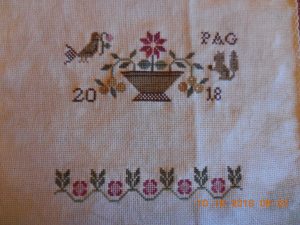 Now to decide which fabric to use to finish this one.