I had been seeing all the beautiful releases received by members as part of the Ladies Prim Society and thought I would like to join. When membership in the club opened for 2016, I decided to go ahead. I just received the first release for 2016 – All the Pretty Flowers by Heartstring Samplery which is pictured below.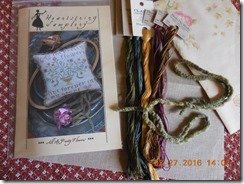 It came as a complete kit, including 32ct linen for stitching the design, the floss needed plus the backing fabric and trim. I really do not like stitching on linen and 32ct is small for my eyes and it feels stiff.  I will probably switch out the linen for one of the hand dyed 16ct Aida fabrics I already have. Once it is stitched, we will have to see how good my finishing skills are.
Started Stitching March 12, 2016 and finished stitching March 18th, 2016.
And the finished small pillow.