And to All a Goodnight (Loose Feathers #11) is another beautiful design by Barb Adams and Alma Allen, the two ladies who are Blackbird Designs. It is another chart that is Out or Print and very difficult to find at a reasonable price. Another stitcher on the 123Stitch Message Board loaned it to me.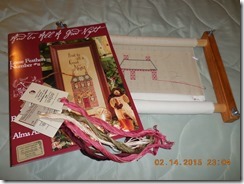 Stitch Count: 61w x 184
Recommended Fabric: 28ct or 30ct Dark Cappuccino by R & R Reproductions.  I chose to use 16ct Lambswool Aida instead.
Recommended Floss:
GAST Sarsaparilla
GAST Cherry Bark
GAST Dried Thyme
GAST Brandy
WDW Oak
WDW Angel Hair
GAST Chamomile
GAST Raspberry Parfait
WDW Pelican Grey – I substituted DMC 645
WDW Carrot
Started Stitching: February 14 2015
Progress February 19, 2015

Progress February 22, 2015

I'm getting really tired of the color raspberry parfait and the bricks on the house BUT that part is finished. Still need to fill in between the bricks but almost there.
Finished stitching February 26, 2015

Framed –