Be Kind and True is another of the out of print charts by Blackbird Designs. Shows up occasionally on eBay but for way more than I am willing to pay. So I borrowed it from one of the gals in the Fans of Blackbird Designs Facebook group. I ordered the recommended threads from an online store while they were on sale but got to impatient to chart stitching so decided to substitute the suggested DMC colors for those I did not already have on hand.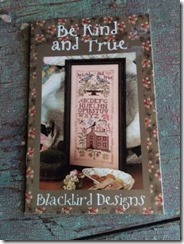 The suggested fabric is 35ct Marva's Blend by R & R Reproductions. I chose instead to stitch the piece on 28ct Rose Monaco.
Suggested floss:
DMC 838
GAST Dried Thyme (DMC 937)
GAST Strawbonnet (DMC 3865)
WDW Caper (DMC 3021) – DMC 3021 almost identical to WDW Caper.
GAST Antique Rose (DMC 223) – Antique Rose is more of a rose color than DMC 223 which seems more mauve colored to me.
WDW Crimson (DMC 3802)  – The DMC floss is a slight bit lighter in color but hardly noticeable.
GAST Woodrose (DMC 950 & 3064)
WDW Cherub (DMC 3774) – very good match
GAST Chamomile (DMC 372)
GAST Briar Rose (DMC 3726)
WDW Teal Frost (DMC 807) – The DMC is lighter and brighter than Teal Frost. Wish I had waited on this but am not going to pull it out and redo.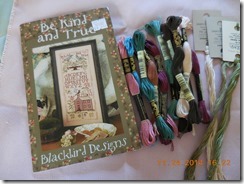 I started stitching this on Wednesday, November 26th and finished it on December 15th. 2014
Progress as of November 28, 2014
Progress as of December 5, 2014
Progress as of December 14th

And the final piece, finished and ready to do something with. How to finish?
February 23, 2015 – Just back from the finishers!