Bittersweet Lane by Blackbird Designs  was one of the Ladies Prim Society patterns for 2014. Never heard of the Ladies Prim Society? It is an exclusive club through Dyeing To Stitch, featuring Blackbird Designs and Heartstrings Samplery. Every 8-10 weeks they send a complete kit including any finishing supplies needed to the members of the group. The kits usually  cost between $35 and $40 and are NOT available except through the club. However you can find them listed on EBay, usually for a pretty steep price. I was lucky enough to find another stitcher who was willing to sell one of the kits for what he paid for it. I jumped at the chance.
Two of the kits I had seen and wanted to get at least the charts for were Bittersweet Lane and Bittersweet September. Bittersweet Lane is pictured below with all of the supplies that came with it which include the linen for stitching it on, the required floss, backing fabric and trim to finish it off as a pin keep or small pillow.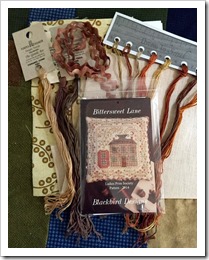 I don't like stitching on linen and I wanted to frame the finished piece rather than make a pillow out of it. Since the chart includes full cross stitches and Smyrna crosses, I decided to use a hand dyed 16ct Aida Heritage from Picture This Plus. Below are my supplies for stitching this piece.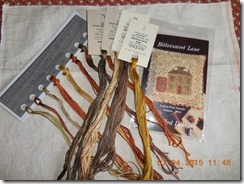 Started stitching July 4, 2015.
Progress so far: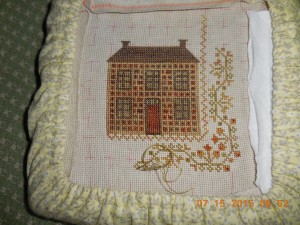 Progress July 22, 2015

FINISHED! July 29, 2015

Finished and Framed.