Bittersweet September by Blackbird Designs  was one of the Ladies Prim Society patterns for 2013. After stitching Bittersweet Lane I wanted to stitch Bittersweet September as a companion piece. Not being a member of the Ladies Prim Society, my only hope was to find someone who was willing to sell theirs at a reasonable price or loan me the chart. Luckily, I was able to find another stitcher willing to loan me the chart.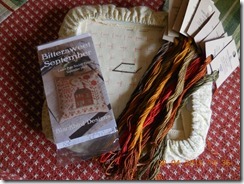 Never heard of the Ladies Prim Society? It is an exclusive club through Dyeing To Stitch, featuring Blackbird Designs and Heartstrings Samplery. Every 8-10 weeks they send a complete kit including any finishing supplies needed to the members of the group. The kits usually  cost between $35 and $40 and are NOT available except through the club. However you can find them listed on EBay, usually for a pretty steep price.
I chose to use 28ct antique white Monaco along with the recommended Gentle Arts Sampler threads to stitch this piece. I had to enlarge parts of the chart because the alphabet was stitched with 1 thread over 1 small square. It also called for satin stitches along the too border.
Started this project on August 3, 2015.
Progress on August 11, 2015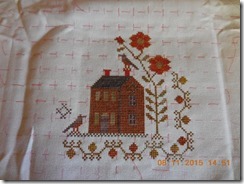 Progress on August 14, 2015
Next year I may just have to join the Ladies Prim Society although I don't stitch on linen and I usually frame my pieces rather than finish them as small pillows. Almost finished one.
Now to frame the two Ladies Prim Society pieces.
Finished and Framed