If you are a Blackbird Design Addict, as I am, you might be interested in two new Stitch-A-Longs for two of the BBD charts. Both are Christmas Designs although they certainly could be displayed all year.
'Tis the Season from Joyeux Noel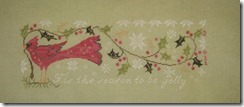 Tis the Season
Blackbird Designs
from the Joyeux Noel book
36ct Pear by Lakeside Linens
CC Belle Soie
Stitched by Cathy B.
Joyeus Noel has just been reprinted and you should be able to order it from your favorite LNS or an online source. One of the charts included in this book is called 'Tis the Season and includes a beautiful Winter Cardinal. The chart calls for using Belle Soie silk threads by Crescent Colors. Some folks will be using those but there are others of us who will be using other types of floss, mainly because of the cost of the silk threads. The called for fabric is 32ct Pear by Lakeside Linens. Again, each of us will be selecting our own fabric. I plan on using 16ct Storm Aida by Hand Dyed Fabrics by Stephanie. You can read more about my own choices on 'Tis the Season from Joyeux Noel by Blackbird Designs.
If you would like to join us, visit 'Tis the Season SAL Facebook group.
Christmas Garden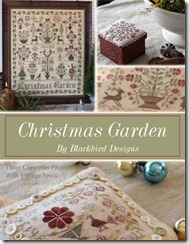 Christmas Garden is an Out of Print chart by the Blackbird Design ladies. Unless you have someone who is willing to loan you the chart or you can find someone willing to sell it to you, you are NOT going to easily find this. Some of us will be using the recommended fabric: 30ct Sheep Straw by R & R Reproductions. Others will select whatever fabric they are most comfortable stitching on. I have ordered a piece of 16ct Regency by Picture This Plus. We will also be using a wide variety of threads. Some will be stitching with the recommended threads. Others of us have ordered floss from Nancy Rogers of the Victorian Motto Sampler Shoppe, specifically the Victorian or Antique Christmas Collection. You can read more about the project Christmas Garden by Blackbird Designs. There are also a number of ways to stitch this sampler to make it your own. Mine will be stitched as a tribute to my oldest son who died just after his 50th Birthday.
If you would like to join us, visit Christmas Garden SAL – 2016