This is a much sought after pattern and when it appears on eBay goes for very high prices – $83. and $100. for the last two that sold. A very nice lady on the 123 Message Board gave it to me along with some fabric and her leftover floss. I will be passing it along once I have stitched it. You can read more about that here.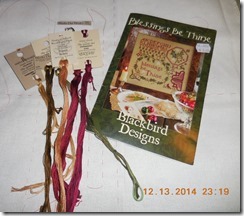 While I am using the recommended floss, I will switch out the white with a gold color since I am using 28ct antique white Monaco rather than the called for fabric.
Started Stitching: December 15 2014
Progress December 19th

Last stitches added December 31 2014
Stitching last night I jiggled the sofa table and all of the tiny little beads went all over the table, the sofa, and the floor. After trying to get them all picked up. I decided it was best to quit for the night.
And framed