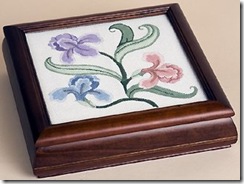 This is my current project for my granddaughter's high school graduation.
The visible design area is 7½x7½ and the box itself measures 9½x9½x2 3/4 and has a mahogany finish and is fully lined in black velvet.  The design area is covered with glass.
UPDATE  May 2009: Finished stitching the piece from Woodland Flowes by Astor Place for the top of the box. Please with how it turned out.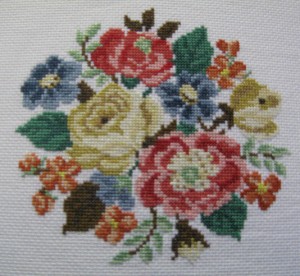 The piece was stitched on 14ct Aida using DMC floss which measures 6 1/2″ x 6 1/2″. After cleaning and pressing the piece, it was stretched over a very think piece of foam board that came with the box and inserted under glass with a picture frame type backing that also came with the box.
If you were using needlepoint canvas or a thicker piece of fabric, you might have to forgo the glass or the foam board. My stitched piece fit perfectly even after stretching on the board and lacing the back.