Casting a Spell us one of the newer booklet of charts from Blackbird Designs. It is meant to be stitched as a sewing box with two extra pincushions. The model was stitched on 30ct Confederate Gray by Weeks Dye Works with Gentle Art Sampler threads (or DMC 839, 3371, 3826, 829).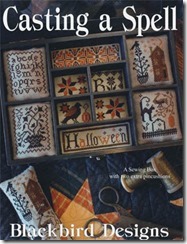 I am not real fond of finishing off little pillows or even of Halloween but I had seen the piece stitched as on all-in-one sampler by Carla Coburn on the Fans of Blackbird Designs Facebook Group. I liked the idea! I selected a piece of 16ct Chocolate Milk Aida from Hand-dyed Fabrics by Stephanie and used an assortment of threads – DMC and Gentle Arts Sampler threads.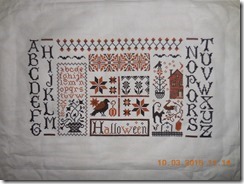 You can read more about stitching Casting a Spell Sampler by Blackbird Designs on my website.
Forgot to note when I started stitching but somewhere around August 15 or 16 but finished stitching: October 2, 2015. Now to wait for a frame sale.