Nancy of the Victorian Motto Sampler Shoppe has been busy dying floss for her latest offering, the Woodland Collection. This set includes 12 skeins, 20 yards each of Wild Strawberries, Blueberries, Elderberries, Wild Grapevines, Hickory Nuts, Wild Acorns, Wild Honey, Wild Grapevines….etc.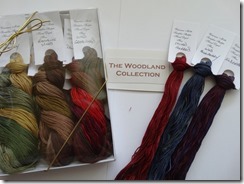 There is LOTS of variegation in half of these colors. Like the shading in the wild grapevines in the woods, all different shades on the vines. And the same with wild berries as they start to ripen. Many different shades in one bunch. All boxes have 12 skeins, 20 yards each. You can ENTER to win a box of these beautiful colors as well as purchase a set. I can tell you from first hand experience that ALL of her colors are lovely to look at as well as stitch with.
With this set Nancy will give 3 extra skeins as a gift for the give-away. AND…..the first 10 sets sold get Elderberry, Mixed Berries and Wild Blueberry. 60 extra yards! Those are the three skeins shown at the right in the above picture. The next 20 boxes sold get 2 of those free skeins and the next 20 boxes get one free skein.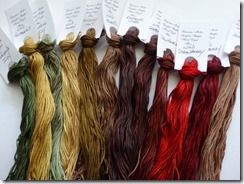 So head over to Victorian Motto Sampler Shoppe to enter. You must be a follower of her blog and you must post a comment to enter. The drawing for the winner will be held on July 14th.
Good luck!!