Home for the Holidays is the long awaited Christmas Book released during the Nashville Marketplace in 2016. The book includes three old out of print charts: reprints Christmas Garden, Blessings Be Thine and 'Tis the Season plus 5 new stocking charts They are Poinsettia Stocking, My Heart is Home Stocking, Gift Basket Stocking, Holly and Ivy Stocking, and Decorating the Tree stocking. Also includes are charts for The Meadow and Home for the Holidays. The book is 39 pages and includes finishing instructions for the stockings.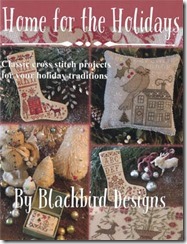 I had already stitched the three largest projects: Christmas Garden, Blessings Be Thine, and 'Tis the Season, so decided to give one of the Christmas Stockings a try since I have NEVER stitched on of the Blackbird Designs Stockings. I chose the first one, Poinsettia Stocking and selected a piece of 16ct Ivory Aida as my fabric. Rather than the called for threads, I chose three colors from the Victorian Motto Sampler threads line – Variegated Cranberry, Olde Cranberry and Old Red Rose. I was very happy with the way it turned out. I started stitching on May 10th and finished on May 15th.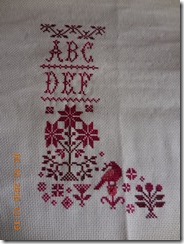 I bought some of the recommended finishing fabric, Joyeux Noel Pearl by French General. We'll see if I try to finish it myself or send it off.