I just this past year started using Qsnap frames to keep my fabric taut when stitching.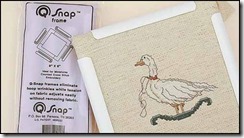 Q-Snap frames provide an alternative to traditional hoops and frames. Composed of PVC type tubes and corners, fabric can be draped over it and held in place by a "C"-shaped clamp on each side. ~ Is the Q-Snap Frame Better for Counted Cross Stitch?
I have various sizes of Qsnaps (both the name brand and those available from Michael's Craft stores) that I use for the different sizes of fabric. You can also buy extensions to create even more sizes. You can try Making your own PVC lapstand by following these instructions.
Once you have placed your fabric within the Qsnap frame you can begin stitching BUT make sure you hands are clean to avoid getting stains on your fabric.  Grime Gard Qsnap Covers  can be used to keep your stitching clean and free of oils and other soiling. You can also tuck in the extra fabric to keep it out of your way while stitching with Q-snap frames. I have ordered the covers in various sizes to fit the frame configurations I use.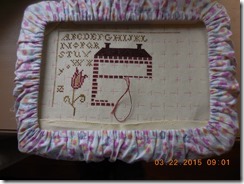 However, you may choose to make your own by following the tutorial written by Abbie's Sewing & Stuff – Qsnap Cover a.k.a. Grime Guard Covers.