A couple of days ago, I received an email newsletter from Keepsake Needlearts with information and a picture of one of their newest offerings, Sunshine Sunflowers. The description read:
Colors of the midday sun and the evening sunset radiate from the petals of these flowers bursting with joie de vivre. Counted cross-stitch kit, designed by Nel Whatmore, includes 16-ct cream Aida cloth, carded cotton floss, needle, chart and directions.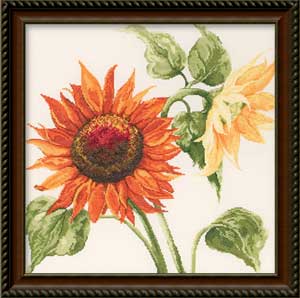 The fact that it was available only as a kit turned me off as I already have all of the DMC colors and drawers of cross stitch fabric. BUT the picture was so beautiful, I just kept going back and looking and thinking: "Should I or shouldn't I?"  The finished piece is 14″ x 14″ worked on 16ct Aida. The price tag is a hefty $68.99 which does include the fabric and all of the floss. I searched first to see if it might be available as just a pattern but alas no.  So I went in search to see if it might be available anywhere at a lesser price. Slightly, but not much.
The piece is based on the art of Nel Whatmore, a British Artist. I will have to give this some serious thought.
Found it on sale for $50. with free shipping so ordered it today (10/20/2010). Can't wait for it to arrive.
Package arrived today (10-23-2010) with some bonus goodies included: a nice canvas bag I can keep the project in and an added chart for The Pack which should be fun stitching after I finish the Sunshine Sunflowers project.
November 15, 2010 – Fabric has been stitched around the edges and put on a stitching frame. Started working on it today. I finally had to enlarge the chart so I could see what I was doing. Looking good so far. Will take some pictures as I go along.