Welcome to our Garden Club! You're going to love belonging to our little sewing circle….. This month we are delighted to see our pomegranate an our lily popping up out of the ground. We planted them at the bottom of our trellis and are waiting for them to bloom.
This is #7 in a 12 part series by the Blackbird Design Ladies. I am not stitching them in any particular order and will be finishing them as small pillows or pin cushions. Rather than stitch these two as one picture, I am doing them separately.
I'm stitching Climbing the Trellis on 16ct Milk Chocolate Aida from Hand Dyed Fabrics by Stephanie with the recommended threads. Started stitching on October 18, 2016,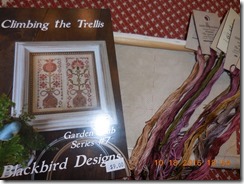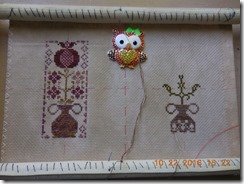 Finished stitching October 24, 2016.