Thanks to a fellow stitcher who was willing to loan me Evening Shades the Garden by Blackbird Designs, I am ready to stitch this OOP chart. Everything is assembled and ready to go.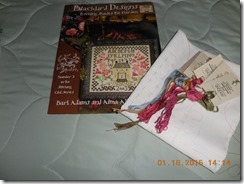 The design area of the piece measures 105wx 93h. I am stitching it on 28ct antique white Monaco (my favorite fabric) with the recommended threads which are a combination of Gentle Arts Sampler threads and DMC.
GAST Old Blue Paint
GAST Pink Azalea
GAST Brandy
GAST Dried Thyme
GAST Raspberry Parfait
DMC 310
DMC 844
Started stitching January 18, 2015
Progress January 20, 2015

Progress as of January 26, 2014

Finished stitching January 29 2015

And here it is framed.