The Flowering Heart Wedding Sampler by June Grigg appeared in the January/February 1984 issue of Just CrossStitch magazine. I've probably stitched it at least half a dozen times on various count fabric for wedding presents and once for a 50th anniversary gift. Unfortunately I did not take a picture of each of the finished pieces. This one was stitched for my niece. The one I am stitching now, I am  going to try and keep track of exactly how long it takes to finish. I started last night (May 30th). Update: Sigh, my good intentions were for naught as I forgot to note when I finished the sampler.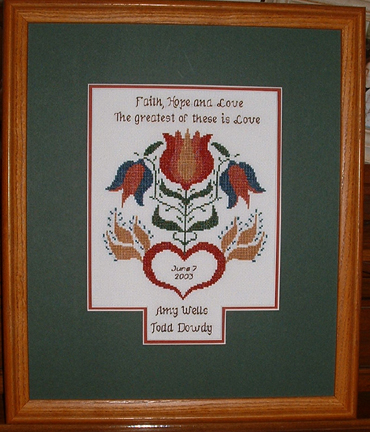 I'm stitching this on 28 count white Monaco by Charles Craft over two threads.
The finished and framed sampler. Both of the samplers were framed with the scooped oak frame from Graphic Dimensions but matted a little differently.