My Heart is True is a 32 page book by Blackbird Designs and Nicoletta Farrauto. The book has 9 projects to make and give (or keep) as gifts.
I was really only interested in stitching one of the projects, Friends With You Project book. Rather than stitch it as a project book, I chose to stitch it on 16ct cream Aida to finish as two small pillows for my long basket.  The project book is pictured below.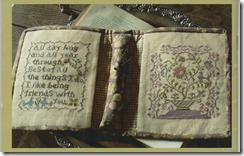 I had purchased a set of floss from the Victorian Motto Sampler Shoppe called Picket Fence Collection (pictured below) and decided to use these to stitch with. This was my first time of really changing all the colors suggested by the designer.
Part 2 – Stitch Count 75w x 90h. I started stitching this on Jun 13, 2016 and finished on June 20, 2016. For the most part this was stitched while my husband was in the hospital. Colors Used include: VM Dried Purple Plums, Carries Creation Blueberry, Crescent Colors Peanut Brittle, Crescent Colors Pea Pod, and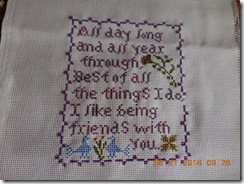 Part 1 – Stitch Count 77wx 91h Colors Used include VM Garden Phlox, VM Garden Ivy, VM Garden Mint, VM Cherry Blossom, Antique Violets, VM Rose Bushy, Crescent Colors, Peanut Brittle.
And the finished pieces. Thank you Joy of Finely Finished  for the beautiful job you did on my stitched pieces.