Garden of Life is #21 in the Loose Feathers series and  is Out of Print (as are many of the early Blackbird Design charts). This is one I have wanted to stitch for a long time but just putting it off. Then I won a drawing by the Victorian Motto Sampler Shoppe for a set of Nancy's Primitive Floss Collection. I decided this was the perfect set to select colors from for this project.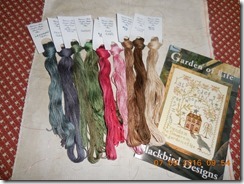 Rather than use the recommended fabric, I chose a piece of 16ct Legacy by Picture This Plus to stitch with. I also selected the following colors from the Primitive Floss collection:
Primitive Green
Dahlia Leaves (from another collection)
Old Red Roses
Pink Roses
Weathered Teal (for the letters which I really like)
Primitive Grey
Mocha Tan
Mixed Wood Brown
Mocha Cream
I think I need one more color but will select it when I get to it. I started stitching Garden of Life on July 9, 2016. Here is my progress as of July 15, 2016.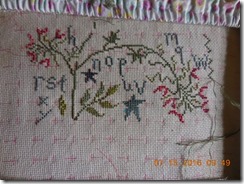 I will be taking a brief break to stitch another of the Out of Print charts that has been loaned to me. Just waiting for the recommended floss to arrive.
Started: July 9, 2016
Finished: August 11, 2016
The picture does not do the threads justice.