I was given Hedgerow Birds as a gift from a stitching friend. I first went searching for the buttons it used and ordered them. While the chart recommends stitching this project on 20ct Straw linen by Weeks Dye Works, I selected 20ct Ivory Lugana which I ordered. The fabric reminds me of the 18ct Davos I used to stitch many of my Prairie Schooler charts on. I also decided to use some of the Victorian Motto Sampler Shoppe threads rather than what the chart recommended. I am getting a little more comfortable in making color changes.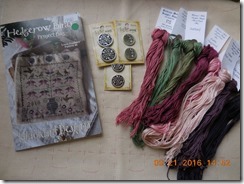 The above picture shows the chart, fabric, buttons, and threads I selected. I started stitching this one on September 21, 2016. The colors I selected to use are:
VM Pink Roses instead of CC Jakey Brown
VM Faded Pink Lace instead of CC Sunkissed
VM Parsley instead of GA Apple Cider
VM Spring Green instead of GA Chamomile
VM Primitive Purple instead of GA Old Purple Paint
VM Purple Hollyhock instead of GA Old Red Paint
Carries Creations Soot for the birds and VM Olde Gold for the bird eye.
VM Rose Plum for part of the Alphabet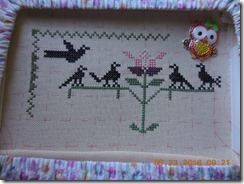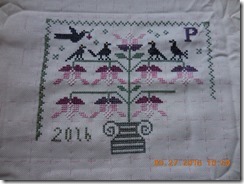 And a finish for the front.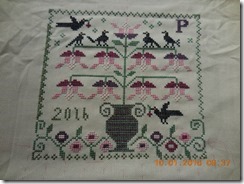 On to stitching the back of the bag now.
And the back is finished.
Started stitching on Sept 21, 2016. Finished stitching October 14, 2016.