Welcome to our Garden Club! One of the most pleasant places to be is in the garden, either weeding or watering. We enjoy seeing the new growth appear on the plants, and watching our flowers bloom is an added treat.
This is #10 in a 12 part series by the Blackbird Design Ladies. I am not stitching them in any particular order and will be finishing them as small pillows or pin cushions.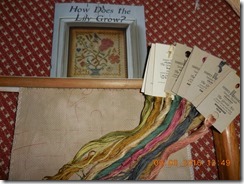 I'm stitching How Does the Lily Grow on 16ct Milk Chocolate Aida from Hand Dyed Fabrics by Stephanie with the recommended threads. Started stitching on September 6, 2016 and finished on September 10, 2016.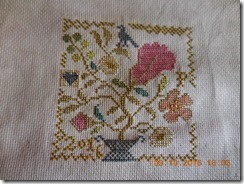 We have a Stitch-A-Long Facebook group for the BBD Garden Series if you are interested in joining us.
And here it is finished into a small pincushion/pillow with chenille  trim.