The Snowflower Diaries cordially invites you to join the Primitive Calendar Joyful World Stitch-A-Long for 2016. Maja has designed a primitive monthly calendar: JOYFUL WORLD for her children that she is going to share with us this year.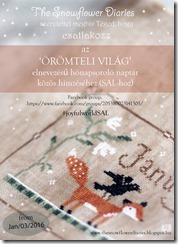 You are invited to join and stitch the entire calendar or just a couple of months. Or you may choose to stitch nothing and just follow along. Two of the charts with recommended fabric and floss will be released in January, and one a month following that. The charts will be available in pdf format for download for FREE. The charts will also be released in multiple languages.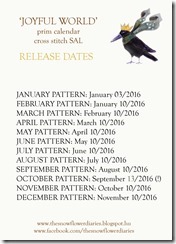 You can read more about the project on The Snowflower Diaries blog and download the charts each month following the above schedule.  NOTE: Charts will be posted both in her FACEBOOK GROUP and on her website.
Thank you Maja for this great project.