This lovely design, Keepsake Box & Pincushion, is another one from the Blackbird Design team. Dated 2008, it was a project from the Shepherd's Bush Retreat. As with many of the BBD this one is also out of print.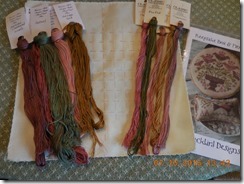 The picture above shows the chart with the recommended threads on the right and the selection I have chosen to use from the Victorian Motto Sampler Shoppe Primitive Floss Collection. I am stitching this on 28ct Cream Monaco rather than the called for linen.
Keepsake Box
Started stitching: July 17, 2016
Finished: July 25, 2016
The colors I selected to use are:
Purple Hollyhock
Parsley
Rose Plum
Antique Gold
Peach Dahlia (from the Picket Fence Collection)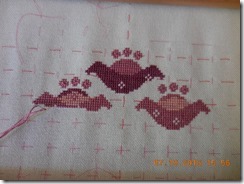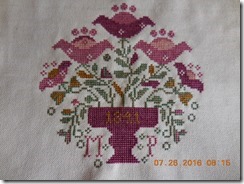 Keepsake Pincushion
Started Stitching: July 26, 2016
I selected 28ct Cream Monaco to stitch the pincushion on. I also chose to use the recommended  threads which are:
CC Cappuccino
CC Clay Pot
CC Cinnamon Toast
CC Yw Old Gold
CC Pea Pod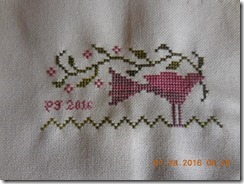 UPDATE: January 25, 2017
I sent these to off to Vonna Pfeiffer and her The Twisted Stitcher's Finishing Service and received these pictures today. Aren't they beautiful?