Liberty Rose is a chart that was released by Blackbird Designs as a class project at Old Mill Stitchery in October 2015. It is now Out of Print but hopefully will be released sometime in 2016 to the general public. I went looking to see if I could find it and the chart was generously donating to the BBD Lending Library.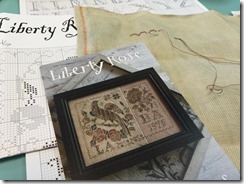 Although the chart calls for the design to be stitched on two separate pieces of 32ct linen and then stitched together, I chose to stitch it on 16ct Milk Chocolate Aida from Hand Dyed Fabrics by Stephanie. I did use the recommended floss which is Week Dye Works Pink Sand, Oak, and Graphite. The design calls for 1 strand of floss stitched over two threads. I opted to use two strands.
Started stitching April 9, 2016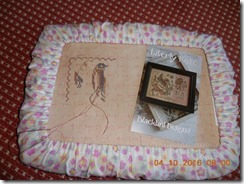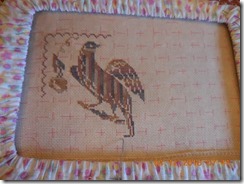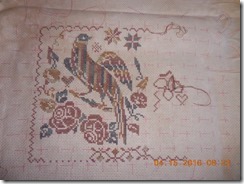 And the finished piece ready for framing. Finished stitching April 19, 2016. I used my husband's and my initials and the year we were married.