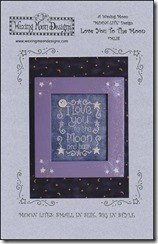 When I first saw this chart, I Love You to the Moon and Back by Waxing Moon Designs, it made me think of my oldest son, Frank and his wife, Alana and what they always said to each other. Frank lost his battle with cancer on December 28, 2011. He had just turned fifty. I decided to stitch it for Alana in his memory and in appreciation of the care she gave him during that final year. The suggested fabric was a hand-dyed linen that was a dark blue. Aida fabric was also offered in that same color. I ordered a piece and tried to stitch but had such difficult seeing the holes, I had to change to a lighter shade of blue. I also chose to use DMC floss rather than the Crescent Colors suggested. I also ordered the button that goes in the upper left hand corner.
Again someone on the 123Stitch Message Board loaned me the chart. While the lighter shade of blue was easier to stitch, my old eyes still had a difficult time.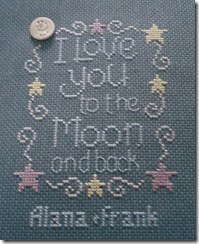 As you can see by the picture shown above, I decided to personalize the finished piece with Alana and Frank's names stitched below the verse. I tried various frames with the piece but could not really make up my mind and was not real happy with how any of them looked. I had seen some of the finishing techniques on the message board done by ClaudiaB and decided to give her a try. I sent her the piece and told her I wanted it finished as a cube. This style of finishing was entirely new to me but I loved the finished piece. See what you think.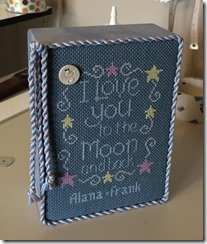 I have mailed it to my daughter-in-law and hope she is as happy with it as I am.