I recently participated in a Giveaway on the 123Stitch Message Board and the prize was the chart Lovebird by Just Another Button Company. Once I complete stitching it, I will pass it along to the next stitcher.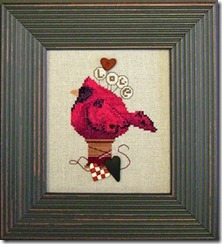 Since I was placing an order with 123Stitch.com, I decided to go ahead and order the buttons since the giveaway was for the chart only.
The buttons needed to complete the chart are:
1 Black Heart – 3438X – $1.40
1 Large Red & White Checked Heart – 3368L – $2.00
1 Black Ken – 3354 – $1.40
1 Tiny Black Cherry Heart – 3446T – $1.40
1 Rosy Red Heart – 3521 – $1.80
I'll be using DMC floss rather than the specified Weeks Dye Works floss and 28 ct white Jobelan over 2.
I'll be taking this to the beach next week to stitch.
Here it is, all kitted up and ready to start stitching. Only two of the buttons arrived. Rest are on backorder.
Finished stitching! Now to iron it and add the buttons, then decide on framing. Fabric is actually white!