When I first saw a picture of Moonlit Garden by Blackbird Designs posted as a stitched piece, I fell in love with the warm Autumn colors which are my favorites. I soon found it it was one of the much sought after out of print designs by Barb Adams and Alma Allen, the two women who are Blackbird Designs. I posted on the 123Stitch Message Board and looked on eBay but the price was always way to high. Once I joined the Fans of Blackbird Designs Facebook group, another stitcher offered to loan me the chart to stitch. I was ecstatic. It recently arrived in the mail along with Tulip Manor which I have already finished stitching. I ordered the floss and some fabric and now am ready to start.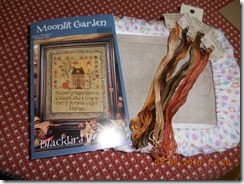 Design size: 118w x134h
Recommended Fabric: 28ct or 30ct Broomstick Brown by R & R Reproductions
Floss Weeks Dye Works:
Straw 1121
Sweet Potato 2238
Havana 1230
Tiger's Eye 1225
Chestnut 1269
Cognac 2242
Palomino 1232
Amber 1224
I chose to use the recommended floss but ordered a piece of 14ct "Sand Castle" Jobelan Aida 17" x 18" which allows 4" on each side.
Progress April 10, 2015

Progress April 17, 2015

Finished April 30, 2015

Finished and Framed