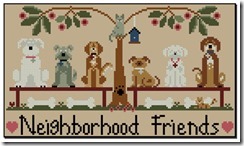 Neighborhood Friends by Little House Needleworks is one of two charts offered as part of a fundraiser for animal care organizations.
Diane Williams of Little House Needleworks and Theresa Venette of Shakespeare's Peddler wanted to help this country's homeless animals and have created two designs, the proceeds from which will benefit dogs and cats looking for their fur-ever homes.
You can read about the project and purchase one or both of the charts from LettersGreatandSmall. The second chart is for Cat Lovers and is called Cats in the Garden. Since we are a dog family, I purchased the Neighborhood Friends chart.
I am stitching this project on a piece of hand-dyed 28ct Chocolate Milk Jobelan from Hand Dyed fabrics by Stephanie.
In the picture below, you can see my progress as of April 26, 2014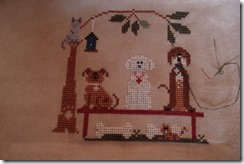 And as of Jun 13 2014 – almost there.