A few days ago, someone posted on the 123Stitch Message Board about a giveaway on the blog To Stitch or Not To Stitch. I wandered over to see what it was all about. I don't usually enter a giveaway unless it is for something I really want to stitch.  I read some of Barbara's posts and the chart she was giving away was Olga's Tart by Plum Street Samplers. I've looked at some of the projects that were framed by using a tart tin and have wanted to stitch one of them but never got around to ordering the chart or the tart tin to go with it.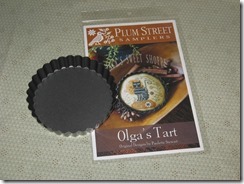 What a wonderful surprise to get an email from Barbara telling me I had won and she would be sending me the chart and the tin and the DMC floss to stitch it. It needs to be stitched on either 36ct over 2 or 16ct over 1 in order to fit in the tin. I will be using 16ct as that is easier on my eyes.
I've looked at some of the other charts in this series, Jack's Sweet Shop and I think I will be ordering a couple more of these. Thank you Barbara. Please visit her blog, To Stitch or Not To Stitch.
Stitching Finished but still need to be finished as a tart.