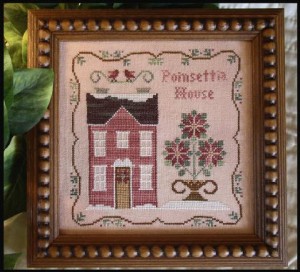 I just ordered Poinsettia House by Little House Needleworks from my favorite on-line cross-stitch shop, 123Stitch along with a new kind of floss (new for me that is), Crescent Colours.  The pattern is described as "Soft colors, a snow hill and the flowers of the season. . . . . .poinsettias!"
Crescent Colours used include:  Roasted Chestnut, Timber, Clay Pot, Weeping Willow and Wild Berries. The remaining thread is DMC.  Can't wait for it to arrive so I can start work on it.
UPDATE: Fast forward to 2017.  I cannot believe this has been sitting in my stash for SEVEN YEARS!
I decided to stitch this one on 16ct Chocolate Milk Aida from Hand Dyed Fabrics by Stephanie. I used the suggested floss shown above. I decided to change the wording to 'Tis the Season which I had seen posted some where else.
Started Stitching: November 28, 2017
Finished Stitching" December 12, 2017