Loose Feathers pattern #19, Quaker Garden is another very sought after chart that has been out of print for quite some time. While I kept seeing pictures of the finished piece, somehow I really did not yearn to stitch this. But as I kept looking I decided yes I would. I had a chance to buy the chart, floss, and fabric at a very reasonable price so did. I now have two of this chart, one out on loan, one I am using. The second one will go out on loan as soon as I finish.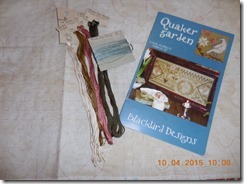 I don't stitch on linen so selected 16ct Wren Aida by Picture This Plus. The only specialty stitches are Smyrna crosses that work well on this fabric.
Started stitching October 6, 2015.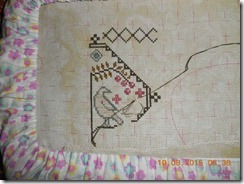 Progress October 23, 2015 – had to do some frogging last.
Finished but not yet framed.
Framed and ready to hang.