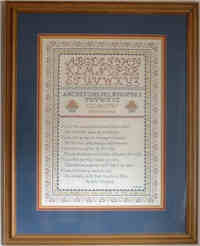 The Shenandoah Valley Sampler was worked on 14 count ivory Aida from an individual graph by W. W. Reynolds of Cary NC. I have no idea if it still available. The piece was professionally stretched, triple matted, and framed and was a gift to my husband on his 70th birthday. He is now 93! Later the entire framed piece was disassembled to put glass into the frame.
The poem at the bottom of the sampler reads –
I love the mountains wreathed in mist,
The twilight skies of amethyst.
I love the gorgeous trumpet flowers,
Wild rose and honeysuckle bowers.
I love the laughter of the rills,
Cloud shadows stretched athwart the hills.
I love the martial ranks of corn,
Thin blades agleam, with lights of morn.
I love the love of native sod.
The simplest faith that trusts in God,
In old Virginia.
The words surrounding the sampler are Shenandoah – Daughter of the Stars and all the counties that make up the Shenandoah Valley.