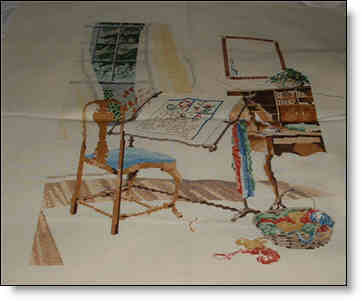 One year for Christmas, I gave my Mom a leaflet and fabric for a project. By that time she had accumulated all of the DMC colors so she did not need them. The chart was Spare Moments by Kept in Stitches. It was based on a watercolor painting by Danny Munns.
I liked the look of the piece and knew Mom liked working on large projects. I did not look to see that part of the design was stitched over one thread for greater detail. She worked on the design periodically until her death a few years ago. I inherited the piece to finish. The fabirc is Jobelan 28 or 32 count and my eyes are not what they used to be so the piece has languished in the drawer for many years now.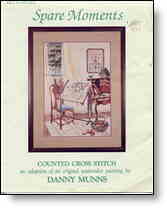 After joining the Counted Cross Stitch group on Yahoo, I decided to bring it out again and look to see what needed to be done. Only the sampler on the wall and the sampler on the frame were left to complete. So perhaps now is the time to put it back on it's scroll frame, get out my magnifying neck thingie and get to work on it.
I also need to try and take a better photo. The piece is being stitched on an ivory colored Jobelan.