I've been seeing postings for Spring Fling by Blackbird Designs for a couple of years now and thinking I MUST stitch this one. It is one of the many out of print charts but I was lucky enough to trade another chart for this one.
A friend sent me some of the colors to stitch this so I finally got around to working on it. I chose a piece of mint green 16ct Aida I had in my stash and changed around some of the colors. I forgot to take a picture of this one with the floss and fabric before I started stitching so this will have to do.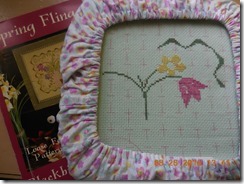 Started Stitching: August 24, 2016
Finished Stitching: September 4, 2016
The floss colors I chose were as follows:
GAST Pineapple Sherbet
GAST Avocado changed to changed to Spring Grass
GAST Hyacinth changed to Victorian Motto Sampler Shoppe Antique Violets
GAST Lavender Potpourri
GAST Dried Thyme changed to Victorian Motto Sampler Shoppe Spring Green
GAST Poinsettia
GAST Tea Rose
GAST Slate
GAST Buttermilk changed to GAST Summer Meadow
GAST Sarsaparilla
GAST Cidermill Brown
GAST Summer Meadow changed to Victorian Motto Sampler Shoppe Dried Hay
I also changed the color of the vase to Victorian Motto Sampler Shoppe Primitive Sky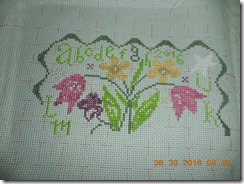 And the finished piece is shown below. I am not sure yet how I will finish this one.