Nancy of the Victorian Motto Sampler Shoppe is playing Santa again this year and offering The Twelve Days of Christmas Giveaway. Each year she has the pleasure of playing Santa and giving away a gift each day for twelve days.
For the next twelve days Santa Nancy will post each day what the gift will be and you can enter each day. You must be a follower of her blog to enter and you must post a comment each day that you want to enter. If you post on your blog or Facebook and get 50 more entries!
Then, starting on the 13th, she will announce the winner for each day through the 25th. You will need to check back to see if you were a winner as she is not going to have time to hunt you down!
Day One's gift is your favorite colors of floss!! You tell Santa Nancy your favorite colors and she will send a nice selection for you. Floss is always the favorite give-away around here.
So you can see just how beautiful the floss is, here is the Victorian Christmas Collection that I am purchasing to stitch Blackbird Designs Christmas Garden.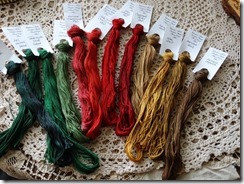 And here is the Christmas Garden chart.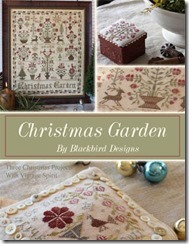 So head on over to the The Twelve Days of Christmas Giveaway and enter for a chance to win.
Day Two: Santa is giving one lucky winner a $35 Gift Certificate to select items from her ebay store. Floss, charts, etc. Everyone loves to go shopping!
Day Three: It is the Best Friend Present! If you are the lucky winner, you give the name of your best friend and Santa Nancy along with favorite colors, linen or aida for stitching, etc. Then she will send a present directly to your friend. A $35 value.
Day Four: we will have a gift box of floss….Auntie's Flower Garden for one lucky winner. Each of the gift boxes is 12 skeins of floss, 20 yards each. Complete with a fold over gift card.
Day Five: The Primitive Floss Boxed Set. This is 12 skeins in muted earth tones from the large set of 46. I think Santa Nancy picked some great colors for this gift box.
Day Six: You get to choose your favorite color necessaire complete with all the goodies tucked inside. The felted wool button bag filled with buttons and charms, the felted wool needle pages with the large flower head pin, trims, cluny lace, a skein of my floss, etc. You get to choose from red and cream, blue floral or tan floral, the giving Quilt Christmas fabric or the Williamsburg Sampler Fabric.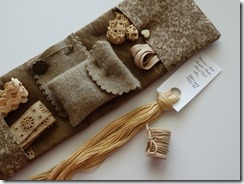 Day Seven: Today's giveaway is a sampler chart of your choice and 10 skeins of floss, 200 yards!
Day Eight: Santa Nancy is giving away a surprise package with $50 in stitching goodies! You will need to tell her your favorite colors and if you like linen or aida for stitching.
Day Nine: Today the gift will be Santa Nancy's Jingle as Ye Enter, Jingle as Ye Go chart, complete with over dyed floss and all the bells you need to make the wall hanging and the bonus ornament included in the chart pack.
Day Ten: today's gift will be a surprise package of floss! Floss is always a favorite give-away. And maybe a surprise chart……Santa's pick of something very nice to stitch.
Day Eleven: Today Santa Nancy is giving away 18 skeins of floss from the Primitive Collection. A nice variety of colors….perfect for all of your stitching, not just primitive.
Day Twelve: And she saved the best for last – the whole Primitive Floss Collection, 46 skeins, 20 yards each, 920 yards of stitching heaven.
So head on over to the The Twelve Days of Christmas Giveaway and enter for a chance to win. Make sure you read all of the details. You can enter every single day. Thank you Santa Nancy!!!
Now to wait for the drawing of the winner's names which begins on December 13th. One name for each day's prize. What fun this has been.