When I first saw a picture of the finished piece Their Song by Blackbird Designs, I knew I wanted to stitch it. Trouble was it is another of the Out of Print charts and very difficult to find and expensive when you can find it. I added it to my wish list and went on to other   things. On one of the Cross Stitch Facebook groups, someone mentioned a shop in Mesa Arizona (Attic Needlework) who might carry some of the OOP charts. I called them and Their Song was one of the charts she had along with Under the Sunlit Sky. I purchased both of them for $18 each plus shipping.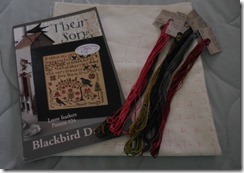 Their Song begins the 2007 Loose Feather patterns. It is #24 in the Loose Feathers series. I selected 28ct ivory Monaco to stitch the piece along with the recommended Weeks Dye Works floss. Design size is: 126w x 150h and measures 9 x 10 3/4 on 28ct.
I value my garden more for being full of blackbirds than of cherries, and very frankly give them fruit for their songs.
The verse that is part of the chart is by Joseph Addison (1672-1719), an English essayist, poet, playwright, and politician.
Recommended Floss Weeks Dye Works (5 yard skeins):
WDW Havana 1230 (you will need additional floss) DMC 610
WDW Pelican Gray 2201 DMC 3023
WDW Moss 2201  (you will need additional floss) DMC 580/730
WDW Olive 2211 DMC 732/733
WDW Red Rocks 2240 DMC 918
WDW Charcoal 1303 DMC 3021
WDW Aztec Red 2258 DMC 3831/221
I started stitching this piece on October 30, 2014.
Progress November 7, 2014
Their Song Completed

And the final piece inserted in the frame.