One of the most beautiful designs the Blackbird Design ladies have created is 'Tis the Season which is from the book Joyeux Noel. The book is due to be reprinted and released during December 2015. If you want it, I would suggest you order it quickly as my understanding is that it is a limited reprint. Most local Needlework shops should be able to get it for you.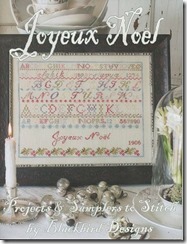 The recommended floss for stitching this is Crescent Colors Belle Soie silk and it calls for eight colors. Regular price is $7.50 a skein and this was just more money than I wanted to spend even if I found it on sale so I sent searching for an alternative. I came across this blog post  Blogtoberfest… Okay, I'm terrible at this!
She suggested using the following conversion from Crescent Colors Belle Soie silk and I decided to give it a try.
Attic Tea -> CC Pea Pod
Moss -> WDW Bark
Mudpie -> WDW Palomino
Poison Apple -> CC Wild Berries
Pumpkin Carriage -> GAST Brandy
Scarecrow -> GAST Grecian Gold
Tortoise Shell -> GAST Forest Glade
Vanilla Pudding -> WDW Whitewash
I did make one other change. Both suggested colors for the bird seemed to be more shades of dark pink which our cardinals are definitely NOT! Another stitcher suggested Week Dye Works Turkish Red which I decided to use. I had also seen the piece stitched on a darker fabric than the suggested Pear by Lakeside Linens. I selected 16ct Storm Aida by Hand Dyed Fabrics by Stephanie.
The verse at the bottom can be stitched in French or English. I think I will stitch the English version.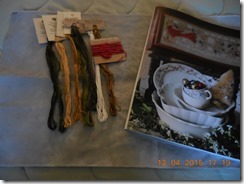 I hope to start stitching this soon and have others in the Fans of Blackbird Designs Facebook group join me.
Progress as of January 2, 2016
Finished Stitching: January 7, 2016
Framed and hanging in my living room.