Tulip Manor is another beautiful chart by the ladies from Blackbird Designs that is unfortunately out of print. So many of there charts are and go for such a high price on eBay that unless you are rich, you have no hope of winning the bid on them. Thankfully, there are stitchers who are willing to loan their original charts out so others have a chance to stitch them. I was luck enough to find another stitcher who was willing to loan Tulip Manor to me.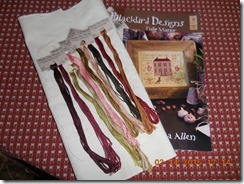 Fabric
The recommended fabric is 28ct Goldfinch from R & R Reproductions. I chose to use my favorite fabric to stitch on 28ct antique white Monaco.
Floss – Gentle Arts Sampler Thread and Weeks Dye Works
WDW Brick
WDW Peach
WDW Rum Raisin
GAST Flax
GAST Cornhusk
WDW Hibiscus
WDW Caper
WDW Bright Leaf
WDW Schneckley
NOTE: No DMC conversion is included
Progress March 24, 2015

Finished March 28, 2015

Now to mail it off to Jill Rensel for framing.
The beautiful finished piece by Jill and Amber.