Nancy Turner of the Victorian Motto Sampler Shoppe is having another giveaway. This time it is for her Southwest Floss Collection which is a Limited Edition. You can see it pictured below.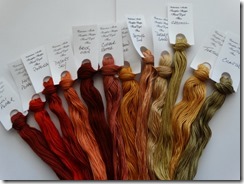 All you have to do to enter, is visit Victorian Motto Sampler Shoppe and post a comment. You MUST be a follower of her blog to win. Click to follow by Faithful Friends. If your name is drawn and you are not on the list she will have to draw another name. If you post on Facebook, your stitching group or blog you get 50 more entries. Not hard to enter for a chance to win some of her beautiful floss.
The Southwest Collection includes 12 skeins with 20 yards in each skein. Colors include: Chili Pepper, Hot Pepper, Paprika, Desert Sky, Brick Oven, Copper Kettle, Golden Maize, Southern Sky, Desert Sand, Tortilla, Gristmill and Cilantro.
The drawing will be June 2nd so hurry and enter and tell your friends to enter. You must check back to see if you are a winner and you must follow her blog! Southwest Collection boxed set – Victorian Motto Sampler Shoppe Giveaway.
Just so you know how much I lover her floss, I also have the following boxed collections:
Auntie's Flower Garden
Kansas Wildflowers Collection (new just ordered)
Victorian Christmas Collection
PRIMITIVE Earth tones Collection
Numerous individual skeins of various colors
You can never have too much of this beautiful floss!!!