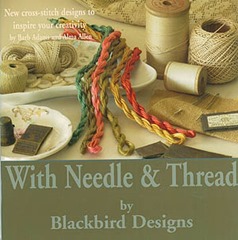 This Blackbird Designs cross stitch book is chock full of projects – there are eleven in all! Designs include everything from the alphabet to birds to floral motifs. Projects range from pillows to wall hangings to sewing boxes!
The book includes charts and instructions for all 11 projects and is 48 pages. The book finishes with a conversion chart and source list. And, of course, the book is now Out of Print and much sought after. A stitching friend offered to loan me the book so I took her up on it.
I picked three of the projects from the book that I wanted to stitch – My Quaker House,My Pink House, and, Let Heaven and Nature Sing.
All of them called for Weeks Dye Works and Gentle Arts Sampler Treads overdyed floss so I order the colors I needed to stitch all three projects.
My Quaker House
I decided to stitch My Quaker House on 18ct antique while Aida since it only had regular x's and Smyrna crosses. I started stitching on August 20, 2015 and took the final stitches on August 31, 2015. Such soft, pretty colors. Here is the finished piece.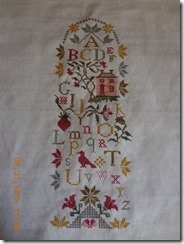 Framed Sept 18 2015
Let Heaven and Nature Sing
Let Heaven and Nature Sing is another of the designs from With Needle and Thread. I selected 16ct Aida to stitch it on as it is easier for me to see. Recommended threads are Gentle Arts Sampler threads and Weeks Dye Works. Started stitching this one on September 10, 2015.
And the finished piece.